Large Fire On North Main Street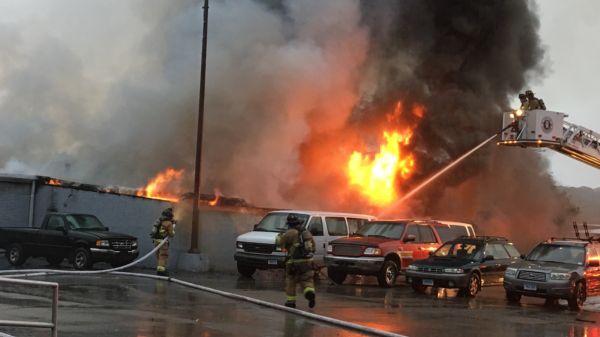 On Sunday, October 30, at 5:30 pm, a full assignment of Engine 2, Squad A, Truck 1, Engine 3 and Battalion 1 was dispatched to 401 North Main Street, Kleemann Service Center, for a reported structure fire. Engine 2 is located a block north of this address and transmitted a working fire from their quarters upon noting a heavy smoke and fire condition presenting from the building. Upon arrival, Engine 2 reported a heavy volume of fire in a large commercial building and requested a second alarm. Crews utilized master streams and large handlines to knock down a large amount of fire initially. A portion of the roof had collapsed and an excavator was used to access the burning materials underneath the debris. Despite the amount of damage to the service area, a large portion of the building including the showroom was spared much damage. Aside from the City Department, Taftville, East Great Plain, and Laurel Hill Departments were on scene as well as The Mohegan Tribal Fire Department FAST.
Norwich PD and American Ambulance also were on scene with Yantic covering the Headquarters station.
Thanks to FF Podzaline and Sean Flaherty for pictures.